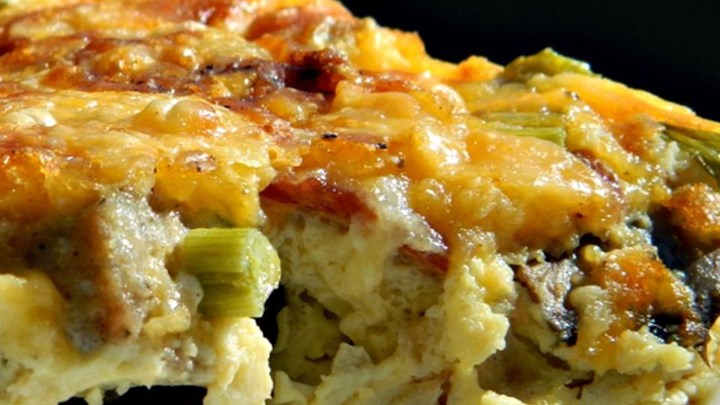 It is worth the cooking time to present this dish with hot biscuits or toast triangles to a hungry family. We use it on special occasions and when we have guests
INGREDIENTS:
cooking spray
1 (12 ounce) package bacon
1 teaspoon butter, or as desired
1 (20 ounce) package frozen cubed hash brown potatoes
salt and ground black pepper to taste
1 (12 ounce) package sliced fresh mushrooms
3 green onions, minced
2 cups shredded Cheddar cheese, divided
10 eggs ( I sometimes use equivalent amount of egg beaters - Read package)
2 cups milk
1 teaspoon salt
8 or more grape tomatoes (optional)
DIRECTIONS:
Preheat oven to 400 degrees F (200 degrees C). Spray a 9x13-inch baking dish with cooking spray. Arrange bacon slices in a single layer on a baking sheet.
Bake in the preheated oven until browned and crisp, 20 to 25 minutes. Drain bacon slices on paper towels and transfer 1 to 2 tablespoons bacon grease to a skillet, reserving the remaining bacon grease. Add butter to skillet.
Cook and stir potatoes in the hot bacon grease-butter until lightly browned, about 10 minutes; season with salt and black pepper. Transfer potatoes to the prepared baking dish.
Heat about 1 tablespoon reserved bacon grease in the skillet over medium heat; cook and stir mushrooms until softened, 5 to 10 minutes. Layer mushrooms over potatoes.
Place green onions in a layer over mushrooms. Crumble bacon over green onion layer; top with 1 cup Cheddar cheese.
Blend eggs, milk, and 1 teaspoon salt in a blender until smooth; pour over Cheddar cheese layer. Add remaining 1 cup Cheddar cheese.
Bake in the preheated oven until casserole is set and a knife inserted in the middle comes out clean, 30 to 40 minutes. You can garnish with halved grape tomatoes, cut side down which have been warmed in oven for a few minutes or microwaved for a few seconds.
Note:
You can use Eggbeaters and pre-cooked bacon. Any variety of cheese can be substituted for the Cheddar cheese